KIP Monev Award 2022, PTPP Upgrades to Become a Company with the "Informative" Category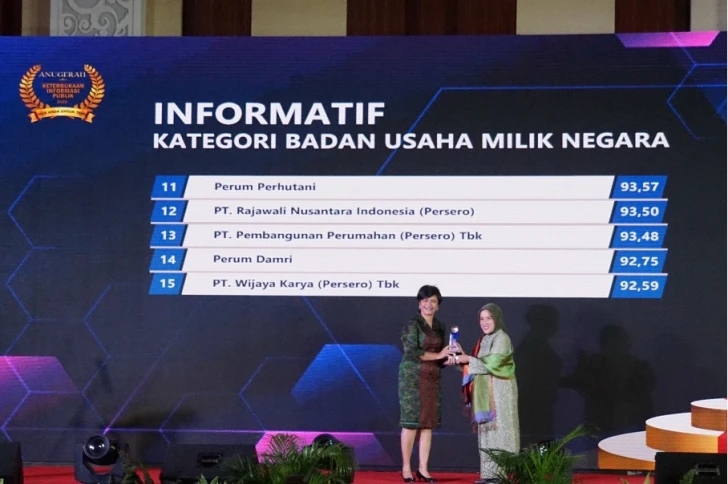 PT PP (Persero) Tbk, one of the leading, foremost and best construction and investment companies in Indonesia ("PTPP") won an award at the KIP Monev Award 2022 held by the Central Information Commission Republic of Indonesia. The event which was held in a hybrid manner was held in person at the Atria Gading Serpong Hotel, Tangerang and online via the YouTube channel on Wednesday (14/12).
In the KIP Monev Award 2022, PTPP succeeded in upgrading from the previous year, namely Quite Informative with a Score of 64.89 to Informative with a Score of 93.48 in 2022. Sinur Linda as PTPP's Director of Corporate Strategy and HCM was present at the award ceremony and represented the company in receiving the award. In addition, Indonesia's Coordinating Minister for Politics, Law and Security, Mahfud MD, was also present at the event.

The person in charge (PIC) for Monev KIP Handoko Agung Saputro said that there had been a significant increase in the implementation of the 2022 Monev Award where 122 (one hundred twenty two) Public Bodies won the title of Informative compared to last year's realization of 84 (eighty four) Public Bodies. In 2022, Bappenas is targeting 98 (ninety-eight) National Agencies to achieve the title of Informative, this shows that this target has been exceeded far enough. He hopes that the 7 (seven) categories of Public Bodies that are required to participate in Monev KIP, namely Ministries, LN-LPNK (State Institutions-Non-Ministerial Government Institutions), LNS (Non-Structural Institutions), Pemprov (Provincial Government), BUMN (Business Entities) State Owned), PTN (State Universities), and Political Parties (Political Parties) can continue to improve the management and service of Public Information in each Public Agency so that more and more of them get the title of Informative.
"PTPP is very proud to get the title as an Informative Public Agency in the 2022 KIP Monev Award organized by the Central Information Commission. The achievement of this award is a significant development from the previous year. Furthermore, we are committed to continuing to improve communication and transparency to the public and to prove that we as a BUMN and a public company have implemented regulations and good corporate governance," said Bakhtiyar Efendi as Corporate Secretary of PTPP.